Regenerative Organic Agriculture and Pro-biotic Practices Hawaii
Farmer Training - this program was made possible by a generous donation from the Walmart Foundation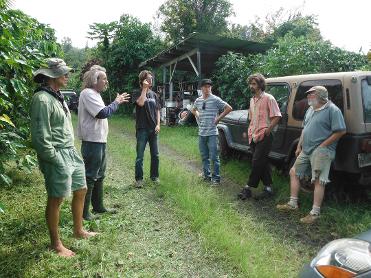 Veteran farmers Cab Baber and Jon Biloon with 80+ years farming experience in Hawaii between them share his knowledge with the class. Jon grows a wide variety of fruits, vegetables, nuts, flowers, herbs, and Kona coffee using a mix of agroforestry and permaculture techniques. He adds 5,000 to 20,000 lbs of organic material per 4-6 weeks to his farm by weed whipping the honohono grass, creating a mulch that provides plenty of nitrogen and helps suppress pathogenic bacteria. Jon's farm has never had the coffee borer beetle.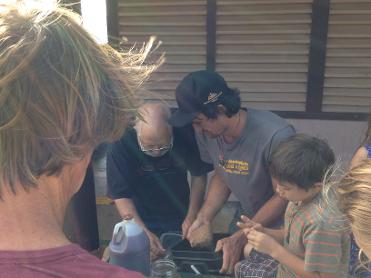 Three generations learn about effective microorganisms and how to make Bokashi, an inoculant for crops and soil consisting of a balanced grouping of bacteria, fungi, and yeast. Bokashi makes nutrients more available to plants and helps crops "share" water, reducing fertilizer and irrigation needs and saving farmers money and time. Class participants took home the Bokashi they made for their own use.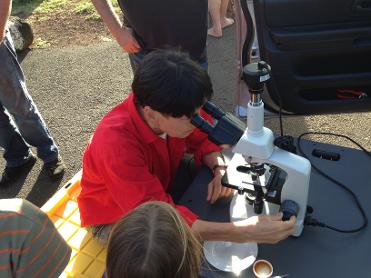 Instructor Dr. Jana Bogs helps class participants examine microbes.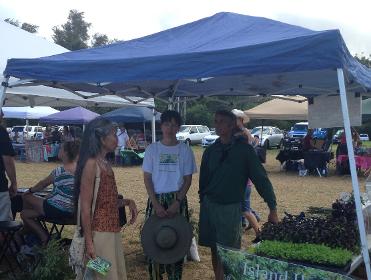 Instructors Dr. Jana Bogs and farmer Cab Baber at the Kohala Fair.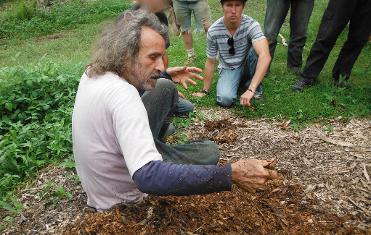 Farmer Jon Biloon talks story with the class about the use of mulch on his farm.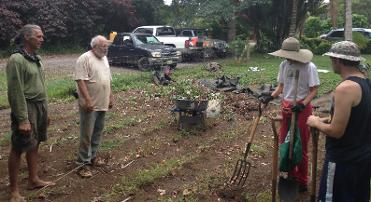 No till or till? Till once and never again? A passionate discussion with two farmers with 70 years experience between them, a scientist, and chiropractor turned gardner.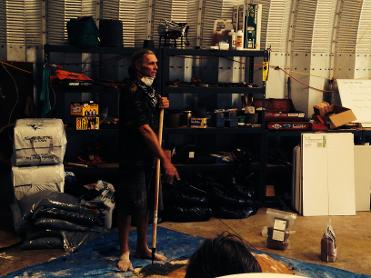 Instructor and farmer Cab Baber shows how to make his multi-component, "lasagna" mineral mix created to meet the specific needs of Hawaii soils.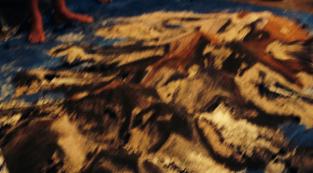 Summary - This project provides vocational agricultural training to veterans and resident adult farmers who have a basic agricultural background and farming experience with access to land for farming through work trade or leases but require additional professional development to succeed at a commercial level.
Project Goal The project goal is to increase the long-term career viability of farmers through professional development that will 1.) provide hands-on learning that will disseminate knowledge and experience specific to successful farming on the Big Island; 2.) give farmers an economic edge in the market place by growing nutrient superior produce; and 3.) help farmers overcome the disadvantage of low capitalization through establishing a collaborative new farmer hui.
Anticipated Outcomes/Outputs
Expanded agricultural competency in nutritionally dense, high yield production farming that integrates natural farming and permaculture techniques.
A new hui of farmers able to work collaboratively on agricultural projects to serve each other and Kohala.
Need - There is a growing population of new and, often, young, resident farmers, including veterans, in Kohala who have some agricultural training or experience, but are still new enough to farming to make costly mistakes. These farmers, certainly returning veterans, while eager to learn and optimize their skills, have financial responsibilities, e.g. families, jobs, farm work trade, etc. and it is difficult, often impossible, for them to give up any time for agricultural professional development, even though this kind of career building training is important to minimize costly mistakes that occur when establishing a new farm and gearing up for larger scale commercial production.
Most farmers have very little capital with which to start and build their farm. These farmers could be a resource to one another and the community, which would help them overcome the limitations of low or no financing. But, currently there is no formal mechanism for these young and veteran farmers to collaborate and learn from one another. Collaboration is the key to growing small, successful community and family based farms, which is central to creating resiliency in our local food supply – numerous, independent farmers and farms connected through shared resources, tools, labor, inspiration, and relationships.
The profit margins in farming can be slim. Market research shows that organic and locally grown food consistenly command higher prices. An emerging marketing edge that will allow farmers to charge more for food than organic crops is produce that is verified to be not only organic, but nutritionally dense. Not only will new farmers benefit financially from learning how to establish nutrient dense farms, but there are obvious health benefits for the consumer and eventual medical savings for society.
To avoid the normal pitfalls and growing pains of establishing a farm and gearing up for larger production, it is imperative to support new young and veteran resident farmers by transferring decades of proven on-Island organic, regenerative commercial production farming experience to them that centers on growing nutritionally dense food.
Program Description - This project will provide vocational agricultural training and paid internships to farmers including local veterans and resident young farmers who already have a basic agricultural foundation (experience and/or classes) and access to land for farming through work trade or leases. This training will 1) help aspiring farmers to avoid the pitfalls of starting up a farm and 2) establish a hui (collaborative) of local new farmers competent in agricultural production that, as a group, will be a resource to one another and the community helping each other to overcome limited access to capital for farming operations. This hui will collaborate on agricultural projects, e.g. when one new farmer's orchard needs extra hands to bring it back into fertile production, they'll be available; when another farmer needs help in opening up old cane land, they'll help, etc.A schedule of collaboration will be set during this program to help firmly establish this practice of sharing resources.
This program will help farmers to free up time to "go to school" and is a wise investment, to accelerate 1.) farmers' success, minimizing costly mistakes that occur in gearing up for larger scale commercial production, and 2.) reaching Kohala's food security goals.
Project Leads - The primary trainers are Clarence A. Baber (Cab) and Dr. Jana Boggs. Cab has been farming organically in Hawaii for 35 years and was a charter member of the Hawaii Herb Association and later helped co-found the Hawaii Organic Farmers Association (HOFA) to help educate farmers about organic farming practices before HOFA became a certifying body, serving as one of the first Presidents. Cab worked successfully with at-risk youth through Kamehameha Schools' Hale O Ponopono program on his former Kona farm and fifteen years ago he helped pioneer the use of effective microorganisms (EM) on Island. Cab also started the Island's first community supported agriculture (CSA) project and owned and operated the largest vegan, organic tomato farm in Hawaii. Dr. Boggs (PhD horticulture/food science) has been focusing on nutrition for humans and animals for many years. Aiming to increase the nutrient density of crops, she pursued doctoral level research in horticulture and food science at Colorado State University. In addition to university training, Dr. Bogs has attended numerous domestic and international seminars and conferences to learn cutting-edge techniques used to produce more nutrient-rich foods. Her focus is to bridge an understanding from soil health, through plant health and produce quality, to human health.
Class Topics - nutrition dense farming, local fertility and resource management, insect and disease control, till free layered systems, companion planting, effective microorganisms, canopy management and agro-forestry, greenhouse management, earth box systems, andvegan farming.